Linkedin has over 830 million users in more than 200 countries and territories worldwide. There are over 55 million companies currently listed on the platform. Linkedin is uniquely positioned as a social platform for professionals. Linkedin users use the platform to network with other professionals, connect with companies, and educate themselves. The educational piece provides a great opportunity for brands to position themselves as thought leaders in their respective categories and build community engagement where their target audience spends time. Linkedin ads can be optimized for demand creation through this method of connecting with potential customers.
Unlike Facebook, TikTok, and even Google, Linkedin's targeting capabilities are optimized. The targeting alone for ads is specific, as marketers can use job titles and company listings pulled natively from the platform to ensure ads are delivered to the target audience.

The benefits of LinkedIn Ads are summarized below:
Reach a more professional audience since users on LinkedIn are usually older, more educated, and have a higher income than most on other platforms.
Access and target a wide audience that has provided accurate demographics and skills. You can narrow your targeting through industry-specific variables such as jobs, titles, locations, industry, level of education, and more.
Create various unique advertising types, from video to images and text. You can use several different formats, such as document ads, carousel ads, email ads, and more.
Leverage lead-nurturing opportunities through LinkedIn's lead accelerator feature that allows you to track your most high-value prospects and offer more targeted ads toward them.
Creating a high-quality ad starts with determining the strategy. Each Linkedin ad should aim to either inform, convey value, or identify a pain point that the target audience is experiencing. As a marketer, every ad you create should aim to create a visceral feeling in the prospect to take action. There are a variety of ad formats you can choose from. Linkedin just released documenting ads, and below we will explore some examples of how some leading companies use them. What's special about these document ads is your prospect can download your e-book, case study, etc., within their Linkedin feed. We will also look at video ads, single-image ads, and carousels.
LinkedIn ads have many more benefits, but these are the main ones. Sometimes it can be difficult to work on a blank canvas when first designing an ad. That's why we have compiled the 30 best examples of Linkedin ads in 2022.
Below, you'll find commentary not only on the creative aspect of each ad but also on how that individual ad fits into the overall marketing strategy and what goal it's trying to achieve.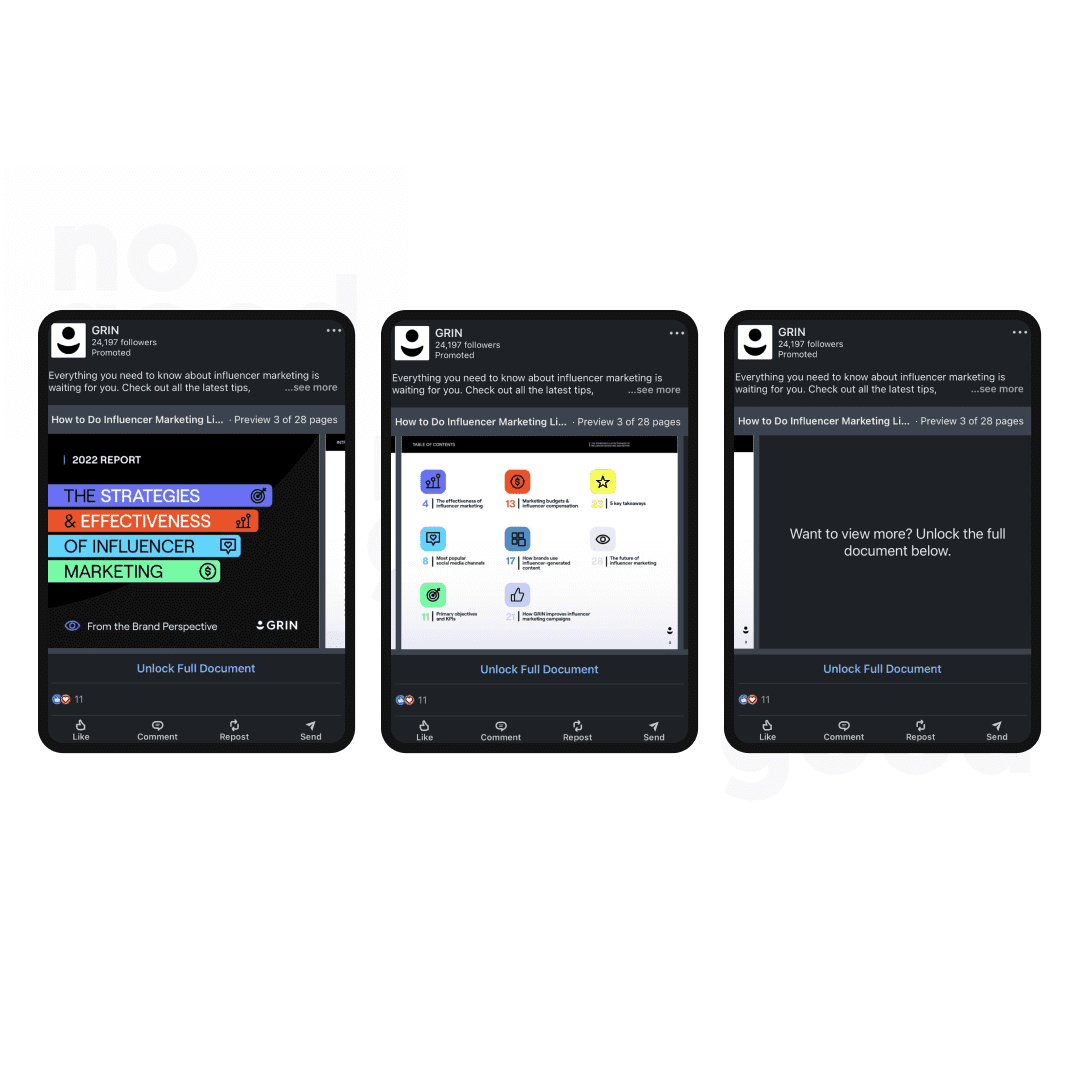 Ad Format: Document Ad
Creative: The use of contrasting colors in the headline is captivating, and the strategic use of graphics at the end of each bullet point stands out.
Strategy: This documentation ad is a quality example of captivating and engaging your audience on the platform. As the prospect flips through the next slide, they become engrossed in what they will learn from the document. The prospect is greeted with a slide to download the document. When the prospect's attention has been captured, they have the download CTA right at their fingertips.
Ad Format: Video Ad
Creative: This video ad presents itself as an organic part of the feed.
Strategy: Kudos to Chili Piper for creating this eye-catching video ad. As you scroll past this video, it breaks the eye with a sign that demands your attention. It's clever how it blends in with your feed, then clarifies its main objective and imprints its logo. A great brand awareness play.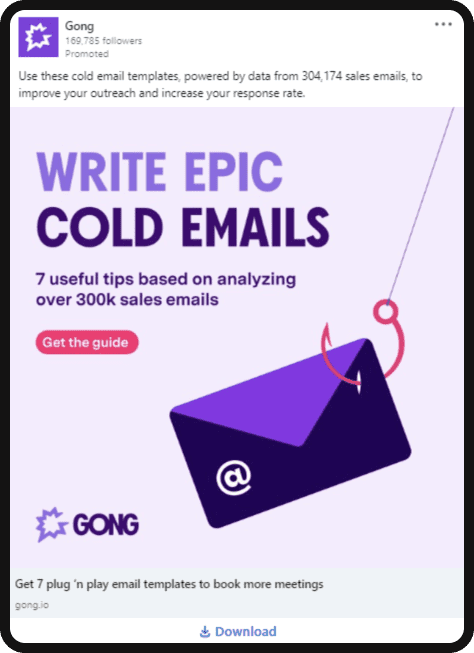 Ad Format: Document Ad
Creative: The creative colors use branded colors, and the hook in the envelope is a neat reinforcement of hooking prospects. The "get the guide CTA" is well placed and contrasted nicely.
Strategy: Gong leverages the power of 304,174. This data point is relevant because Gong's platform captures and analyzes every customer interaction. This proves expertise to the target audience beyond "What's your best cold call email template?" Who wouldn't want to write epic cold call emails?
Ad Format: Single Image Ad
Creative: This promotional video shows some of the finer points of the platform but only provides a sample. This gives the potential customer the control they want over the buying process. The headline emphasizes this, and the CTA to register makes for a smooth experience.
Strategy: Signing up for a demo is a high-commitment ask. The prospect must make an appointment with an AE or an SDR who qualifies for their company, and then it's a cat-and-mouse game to get the prospect to invest in their platform. During this conversation, prospects are often told that this platform will eliminate all of their problems.
People want to consume content on their own time and at their own pace. When they are ready to buy, they'll sign up.
Ad Format: Single Image Ad
Creative: "Are you being paid fairly?" It's short and sweet with what you're getting. The bolded headline is placed correctly. The copy reinforces this nicely.
Strategy: This is a great example of recognizing a pain point and doubling down. Everyone knows how it feels to find out you are being paid less than a colleague who is doing the same job you are doing.
Ad Format: Single Image Ad
Creative: The bold text catches the eye, the specific pain point appeals to the potential customer, and the on-demand version is great for the target audience to consume on their own time and possibly share with their teams.
Strategy: SDRs and AEs know this pain all too well. They often spend days, weeks and months chasing ongoing business. Only to receive the dreaded response, "Can we discuss this next quarter?" That's a nice way of saying "no deal."
Dealing with the uncertainty of ongoing business is part of the job description, but it would be helpful to at least have some indication of when the business is failing. In this ad, the fear of lost business and wasted time is particularly evident.
They tactfully placed this content as a lead-gen ad. Want to know the secrets? Then submit your information.
Ad Format: Video Ad
Creative: This ad conveys a strong viewpoint. The headline is clear, and you know what to expect. Clicking on the ad takes you to a customized landing page with key insights from the discussion, and you can follow the entire conversation.
Strategy: Value-Add. Value-Add. Value-Add. I can not repeat this often enough. That's what MetaData.io does impeccably. Their platform is focused on audience targeting, campaign experimentation, and website personalization. So why do they teach you how to capture demand?
It's simple. They position themselves as the experts on the entire funnel. For marketers, this is relevant, but why are they not gating this great content? That's where Metadata.io stands out. The company has shifted its marketing strategy from lead generation to demand generation. The focus is on educating the market to the point of selling and optimizing the content to be consumed on the platform.
Ad Format: Document Ad
Creative: The illustrated individual pointing to the words draws your eye to the highlighted text. When you hover over the ad, you'll find the CTA for download, but more importantly, an additional reason why you should click on the ad. When the prospect clicks on the ad, they are greeted with a lead form.
Strategy: What do I get out of this ad? 3 viable ways to add structure to your documentation. In a split second, we understand the added value that Notion is trying to provide. Because why do you need 3 steps to support your documentation? You probably don't have a structured system for documentation. They know their audience.
Ad Format: Single Image Ad
Creative: The dashboard helps prospects visualize how the product can help their teams achieve their goals. The headline could use a little TLC, with some social proof or even calling out a specific pain point. The text above the ad is enough to quickly get to the point.
Strategy: Asana shows how its system can be valuable to the potential customer from many angles, but what they are doing here is highlighting the key pain point for businesses in the era of remote work.
Ad Format: Carousel Ad
Creative: Each carousel image highlights key points the reader can learn. The copy reflects the concerns of the prospect. The creative gives some indication of the subjects discussed on the landing page.
Strategy: At the time of this writing, the Inflation Control Act has just gone into effect. It is a turbulent time, not only for individuals but also for businesses. How will this affect the overall economy? Time will tell, but EY offers the first steps toward guidance.
Ad Format: Carousel Ad
Creative: Salesforce balances bold visuals with casual language to deliver a well-tailored message from the copy to the creative. This ad reads playfully, "make every moment magic," but is also informative.
Strategy: The message is not lost in the bold colors and smiling faces; it's reinforced as it makes the content digestible and appealing.
Ad Format: Document Ad
Creative: Contrasted creative, statistics to reinforce, and a well-placed CTA.
Strategy: Some of the best blogs are never read. Why is that, really? Either because the individual was unaware of the blog's existence or because nothing prompted them to spend valuable time reading it. There is a solution to this problem.
Often, marketers want to bury their best content behind a catchy headline and deep within an article, blog, etc. We hope the target audience will hang on every line and read every word we have labored over. The fact is that the average reach of CTR can range from 2% to 5%. Let us say the ad is read by 100,000 people. 5% clicked, and maybe 1% read your article. Not bad.
But you see, this is the fundamental problem. If we assume that you are targeting the right audience, the goal is to get the message across. Optimize for the 95% who want to consume the content in their feed. It might be worth giving away the best information, just like Hubspot.
Better yet, this pristine use of the document ad allows the audience to download these key insights without leaving the platform.
Ad Format: Video Ad
Creative: This user-generated content starts with Design Pickle getting roasted for its logo.
Strategy: Cheers to Design Pickle's willingness to experiment. Although I do not like the watermarks of TikTok or Cameo. This is one way to break up the monotonous scrolling of your target audience. The TikTok creator is criticizing a design agency for its logo. Interesting, but if you smile at it, and it leaves a lasting impression. They won.
Ad Format: Single Image Ad
Creative: Great work by Wix.com identifying a common pain point for marketers. And emojis to illustrate common communication patterns we see in Slack. The outlined colors also help this post stand out; the call to action is simple and clear.
Strategy: Most marketers can understand this pain immediately. (Before I continue, I want to credit my developers who publish this blog, who do a great job). For the rest of the developers, not on our team. Whether it's optimizing CRO, updating a new blog, press release, etc. Marketers are facing a bottleneck. If you do not have the ability to write hard code in the first place, your publishing deadline is at the mercy of the development team.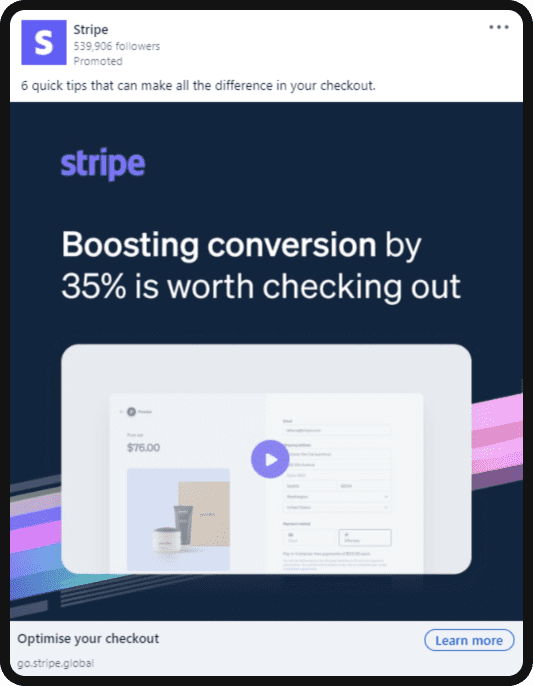 Ad Format: Single Image Ad
Creative: Boost conversion is bolded nicely, and using 35% as statistical proof is well placed. The click-to-play button is engaging. The top and bottom headlines communicate the value proposition.
Strategy: I click, and a lead generation form appears. Why is this important here? Because Stripe functions as a B2B company, it can optimize its ads as a B2C company because its buying cycle is shorter. It's a payment platform for businesses, but its target audience ranges from enterprises to solopreneurs launching their first eCommerce store.
This ad stands out because they know what its target audience is looking for. A payment platform, but the key is to give prospects the insights they need to make simple adjustments themselves. This is long-term play to educate customers to the point of sale.
Ad Format: Video Ad
Creative: Thumbstopping
Strategy: How can you not ignore two menacing eyes staring into your soul? This promotional video is 6 seconds long. And just as you figure out what you are watching. Intuit Mailchimp slaps you with its tagline, "The #1 Email Marketing & Automation Brand." It might not generate a bunch of leaps, but it did catch your attention.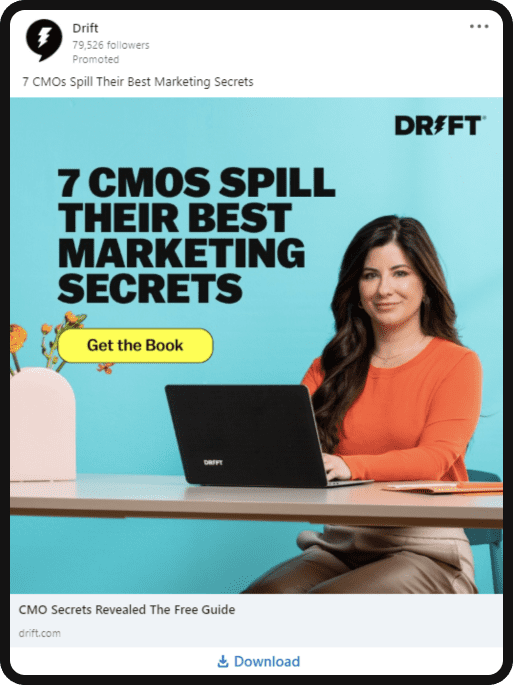 Ad Format: Document Ad
Creative: The bold headline draws you in. It is clear and captivating. The color stands out, and the yellow CTA stands out significantly.
Strategy: The interesting thing about this ad is that it has nothing to do with the platform itself.
So who are these CMOS? Why should you care? Drift has built a following of marketers and salespeople through content like this. They regularly host events with industry thought leaders like Dave Gerhardt, April Dunford, Christopher Lochead and many others. Their content library has become their primary resource for authority, trust and credibility. So the moment you download this document, you can trust it'll be informative.
The smart thing about this long-term strategy is that if a company ever considered chatbots, Drift would likely be first in line.
Ad Format: Video Ad
Creative: Shopify captures the entrepreneurial hustle and bustle in this promotional video in an incredible way. Each frame shows a person from a different walk of life working hard to build their business. At the end of the video, the faces of the people making their first sale are shown. This creates a kind of empathy in the viewer.
Strategy: Not unlike Nike's motivational videos that make you feel like you can "be like Mike" when you buy the latest pair of Jordans (sneakerheads don't come at me). Shopify's ability to showcase the progress of starting a business makes you feel like this is precisely the platform you need to launch your eCommerce business. It pulls hard on emotions, and the copy provides strong social proof as to why they top e-commerce platforms.
Ad Format: Single Image Ad
Creative: The copy is unique because it allows the reader to identify if this blog is relevant by stating it's specifically for mid-size to smaller companies.
Strategy: Cybersecurity is considered the greatest threat to the United States. Threat hunting is a common term in this industry. The text is accurate, and the advertising is enticing enough to make you feel like you are about to attend a webinar with Jason Bourne.
Ad Format: Document Ad
Creative: "Get the WhitePaper" is a simple call to action and speaks the audience's language. The bold headline states clearly what to expect.
Strategy: Tableau is a powerful analysis tool. Users often feel overwhelmed at the beginning. This whitepaper is designed to provide valuable insights into how to use the platform effectively. The document ad is a nice touch for people who want to review the document now or later.
Ad Format: Single Image Ad
Creative: The creative is bright and welcoming. 2 months free is nicely contrasted and stands out. The bottom headline, coupled with Q4 quickly approaching, gives the prospect initiative to take action before it's too late.
Strategy: This is one of the few offers in this article. Free trials and promotions exist in all industries. The clever thing about this offer is that it is very unlikely that a company that accepts this offer will move after two months.
Ad Format: Single Image Ad
Creative: The contrasting colors of the ad make this ad stand out. "All without typing" is a great hook, and "Become an Author" as a CTA is perfectly placed and stands out. The modern way of writing a book as a tagline translates into a clear movement in the publishing industry.
Strategy: Scribe Media's target audience is influential people. The hardest part of writing is often organizing ideas coherently. Everyone has a story, but not everyone knows how to tell it.
Ad Format: Single Image Ad
Creative: The creative lists exactly the information an AE /SDR needs to follow up. Even if the prospect does not follow up, they get the gist. The ad copy makes excellent use of social proof by listing Gong and Drift as notable customers. The value proposition is clearly stated in the bottom text.
Strategy: UserGems shows how it works in a simple screenshot.
Ad Format: Document Ad
Creative: Contrasted main point and CTA stand out. The top headline helps the prospect understand how this system operates. The bottom copy needs a bit of tweaking to reinforce the value proposition.
Strategy: The headline copy points out how difficult it is to maintain protection against cyber threats. The design tactfully emphasizes this point as it highlights the article's main topic. Most potential customers keep scrolling, but those attracted get the opportunity to learn more from the document provided.
Ad Format: Single Image Ad
Creative: Lots of bold colors in this ad, but it's well-balanced. The yellow is bright, and the call to action is well-placed.
Strategy: Semrush is one of the notable companies, like HubSpot. They even go as far as positioning themselves as a leader in the marketing industry. This gives them the opportunity to captivate potential customers with valuable content, further engaging them and creating demand.
They begin this ad with the age-old question. Historically, sales and marketing have been at odds. We will not dive deeper here. The question is enough of a hook because it appeals to the emotions this question evokes.
Ad Format: Single Image Ad
Creative: Litmus highlights the value of GIFs and uses social proof stating that 51% of marketers use GIFs in their marketing.
Strategy: GIFs are used on all communication platforms. You have probably already used them. If you are pronouncing them (JIFS), you are wrong. I am sorry I do not make the rules.
The illustration is an important visual cue. The caption below is probably where the viewer's eye will go next, and if the illustration leads to confusion. Our gaze hits "Animated GIFs," and we understand what this is all about. When the prospect is captivated, they will likely return to the caption to understand the value Litmus is trying to provide.
Ad Format: Single Image
Creative: The creative lays out each value proposition in one single image. The creative copy reinforces this and helps redirect the eyes when they drift. The text does a good job in addressing typical questions you might ask when starting a new campaign.
Strategy: Wistia gives away its most used features. Most companies struggle to communicate one value proposition in an ad. Wistia does this by taking a screenshot of each feature and putting them side by side. That's all the information you need to understand why this product can be valuable to your video campaigns.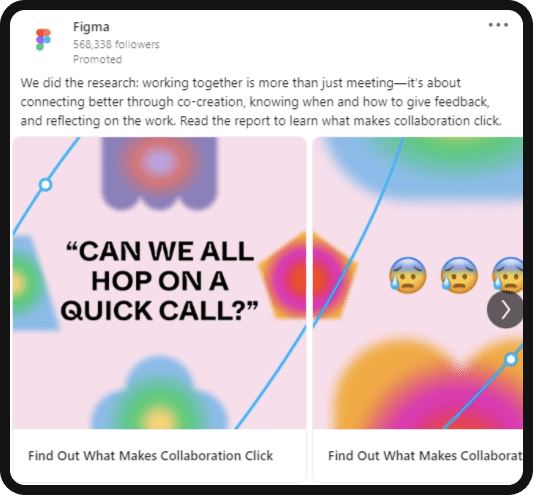 Ad Format: Carousel Ad
Creative: The bright colors, highlighted text, and emojis stand out on Linkedin. The creative headline highlights a pain point. While the CTA remains consistent across the ad.
Strategy: Anyone who has worked remotely or collaborated with remote workers knows the communication difficulties involved. As we enter a new era of work culture, this creative headline draws on a current struggle in the workplace. The emojis and colors are fun. The headline copy is used here to elaborate on this phenomenon.
Ad Format: Carousel Ad
Creative: The background of these carousel images compliments each other. The creative copy is clear and contrasted. The use of data adds credibility. The CTA pulls the read to the next tip. The headline copy is to the point.
Strategy: Fiverr is a platform for freelancers. Using the carousel and creative invite their audience to learn the 5 copywriting tips backed by science. "Science-backed" is the selling point because it lends credibility to the following slides. Why present copywriting tips when their freelancing platform offers more services than copywriting? If they have better-informed freelancers, their freelancers can offer better services, better service, and more clients. This strategy is not A-> B, but the more freelancers they can inform, the more likely they can grow their business. If someone is considering joining the platform as a user, it could add credibility to why they should.
Ad Format: Video Ad
Creative: A perfect example of notification overload.
Strategy: This promotional video from Zapier is a prime example of busy work. How many hours a day do you spend doing repetitive tasks but are hindered by a to-do list that does not increase profits? If the prospect engages further and reads the copy, they are greeted with "you are much more than just work," which helps validate the prospect's pain point and aligns Zapier as a solution to their problem. The free offer is a great addition as it increases the likelihood that the user will explore and even try the solution.
Final Thoughts
Linkedin has evolved in the way it's being utilized. Unlike any other social media network, Linkedin is used to educate and connect professionals. This allows marketers across all B2B industries to optimize the content consumed within the platform. Prospects are already there to learn, and engage now with these ad examples above you can use some of these creatives & strategies to educate your prospects to the point of sale.