From Grumpy Cat to Bernie Sanders, meme culture has become a facet of our everyday lives and our audience. As marketers, our goal is to continuously resonate with our growing audience with our work and make sure we are relevant to every age of our demographic. But what value do memes serve? How do they fit your brand? How can memes be the next tool in your marketing strategy?
Our comprehensive meme guide will take you through the core strategies of fitting memes into your larger advertising and growth marketing strategy. Memes can make any brand stand out as well as show a personal side to their brand voice.
What are meme ads?
Meme ads refer to a marketing strategy where brands leverage the power of memes to reach and engage their target audience, particularly younger audiences such as millennials and Gen Z. Meme ads typically involve the creation or sharing of posts that incorporate memes, which are humorous or relatable images, videos, or texts that spread rapidly across social media platforms.
Memes have become a popular form of communication and entertainment in today's online culture. They come in various formats and are often generated using meme generators or inspired by popular meme templates. By tapping into meme culture, marketing agencies, and brands aim to connect with their audience on a more personal and relatable level.
The appeal of meme ads lies in their ability to evoke emotions, particularly humor, and tap into shared experiences or pain points of the target audience. Memes offer a unique opportunity for brands to infuse their marketing campaigns with humor and authenticity. When a brand successfully creates or shares a funny meme that resonates with the audience, it can lead to increased brand awareness, engagement, and potentially even viral reach.
Meme ads are commonly seen on social media platforms, where they can be easily shared and interacted with. Brands may create dedicated social media posts featuring memes or incorporate memes within their advertising practice across various channels. These powerful tools enable brands to leverage the popularity and virality of memes to amplify their message and generate buzz around their products or services.
Meme ads have become a prominent marketing trend, leveraging the humor and relatability of memes to connect with younger audiences on social media platforms. By understanding the preferences and interests of their target audience, brands can create or share great memes that resonate with their followers, ultimately driving engagement, brand awareness, and potentially even sales.
Can I use a meme as an ad?
Yes, you can definitely use a meme as an ad. Memes offer a unique opportunity to infuse humor, relatability, and authenticity into your marketing efforts. By creating or sharing a funny meme that resonates with your audience, you can capture their attention and increase their likelihood of sharing your content. Memes have the potential to go viral, spreading rapidly across social media platforms and increasing brand awareness.
To use a meme as an ad, you can start by identifying meme formats or templates that align with your brand or message. You can create a meme that incorporates your product, service, or brand elements cleverly and humorously. Alternatively, you can leverage existing popular memes and adapt them to suit your advertising needs, adding your twist or branding elements to make them relevant to your target audience.
It's important to consider your target audience and their preferences when using memes as ads. Make sure the meme feels natural and relatable to them, as this will increase the chances of it resonating and being shared. Additionally, be mindful of the context and ensure the meme aligns with your brand image and values.
When using memes as ads, it's crucial to maintain a balance between entertainment and the marketing message you want to convey. Memes are powerful tools, but they should still serve the purpose of promoting your product or service effectively. It's recommended to test and track the performance of your meme ads to gauge their effectiveness and make adjustments as needed.
The Rise of Meme Ads
Millennials currently spends over 200 minutes a day online. Between this audience's scrolling, sharing, posting, and interacting with friends, marketers have limited real estate to keep their audience hooked through various campaigns and advertising strategies. Memes — and especially meme ads — are at the unique intersection of humor and relatability, making them great content to be shared. These pieces of content blend into the user's normal feed, making users see them as native content rather than real ads, increasing the likelihood of capturing the audience's attention. When done correctly, memes have a great opportunity to act as branded content that is humorous, relatable, and timely and doesn't cause your user to avoid your content altogether.
Why create meme ads?
Creating impactful ads can take time, development, and testing. Now more than ever, younger audiences are ad-averse, making them scroll by branded or sponsored content. Meme ads are a unique opportunity to encourage younger audiences to stop scrolling or browsing and actually pay attention to the meme content, craft highly targeted messages, and show brand personality all in one swoop.
They're easy
Meme ads, as a concept, are built on already existing content and format. As a content type, memes originate from the idea of something that is socially accepted and understood. Knowing this, the design of memes and meme templates is very simple and accessible to marketers. With an extensive backlog of memes accessible out there on the internet and new ones being created every day, there is plenty of existing material to easily launch meme ads at any point.
They're timely
In addition to being easy to create, memes also carry a unique element of humor and timeliness. Despite their ever-growing presence, memes have "expiration dates" contingent on their timeliness. For example, Bernie Sanders sitting in his chair during the Inauguration Ceremony in January 2021 has timed out in terms of its relevance, just like the Weeknd from the Superbowl had a short-lived moment on social media for about 48 hours after his halftime show. One of the most important challenges with embedding memes into your marketing strategy is to ensure that they are still relevant. If not, you won't be seeing the positive engagement or traction that the strategy potentially has.
They're funny
Have you ever seen a meme that didn't make you laugh? We all have. The key to memes is to not try too hard or make them too specific, which is very different from the iterative and lengthy process of polishing and carefully designing traditional ads. There are general statements that have inherent humor about them. Just like with any joke or comedy stand-up, if the joke is too forced, over-emphasized, or not relatable, it can do more harm than help your branding strategy. When it comes to memes, the best ones come with great content written with the right audience in mind and humor that is broadly applicable.
Why do Brands & Marketers Use Memes?
Connect with your audience
Since March 2020, users have been using memes more and more frequently as a way to connect with others and cultures around the world. Memes offer a great opportunity to transcend a lot of classic audience segments. On average, meme viewing is as high as 54% for Gen Z and Millennials — a testament to the fact that people are spending more time online and, more importantly, looking at memes. What memes do is open a door for marketers and brands to meet their growing target audience where they already spend most of their time — on social media.
Show your personality
In 2021, it's even more important to be a brand that stands for something, builds community, and shows just who you are. Memes give an avenue to connect with your audience on a deeper level and show off your brand voice. Not all brands can have memes that work effortlessly, and others won't always fit at the time they are relevant. Brands have a unique opportunity to make sure their brand tone and personality are highlighted and a core tenant of their social media presence. Memes are simply another great tool to do this with and give you a performance edge against your competition.
Make your brand memorable
Memes are memorable and shareable elements that make your audience want to come back. In other words, they offer a chance for brands to make a lasting mark. Memes are one of the most direct ways of reaching target customers and leaving a lasting impression. When done right, memes have a lot of power to move your brand in the right direction and keep your brand at the top of your customer's minds. Relevance and timeliness can help brands develop deeper expertise in social media engagement while driving engagement and strong creatives.
What Industries Are Using Memes?
Meme applicability varies a bit by industry. Do memes really fit your business and strategy? The answer is it depends. We've found that industries across the board, from healthcare to privacy to tech, are using memes to connect with their younger audiences- especially Millennials and Gen Z. Social media platforms like Instagram, TikTok, Reddit, and Twitter have become hubs of meme accounts and the ever-growing visual language this generation is adopting. Memes are one avenue we see businesses transcending their age ranges and connecting on a deeper level.
Although some skeptics may find memes "off-brand" or "not aligned", when done correctly, memes support your target messaging and merge your creative, brand, and messaging into one package. Memes have a special place at this point in time and have the ability to make or break a brand. A great meme can send you viral and boost engagement like no other, while an out-of-place meme or retired meme feels unnatural.
To put it simply, every brand can use memes, but can your brand do it well? We know that memes are driving growth, and we continue to see them as a future tool that all brands will be using.
Examples of What companies use memes as Ads and Brands Doing Meme Ads Right
Netflix
Known for its vast collection of video streaming content, Netflix understands the importance of connecting with younger audiences, particularly those under the age of 35. Therefore, it comes as no surprise that they frequently utilize meme marketing in their advertising strategies. By leveraging memes, Netflix can tap into the humor and relatability that resonates with their young viewers. For instance, they may post a meme referencing a popular TV series like "YOU," using a screenshot or a humorous caption that captures the show's essence. By aligning its brand with meme culture, Netflix effectively engages its target audience and strengthens its connection with them.
Domino's
Another company that recognizes the power of memes in advertising is Domino's, a well-known pizza delivery chain. Domino's has cleverly adapted popular memes to relate them to their brand. For example, they may take a widely memed image, such as the album cover for Drake's "Certified Lover Boy," and creatively modify it to include their famous garlic dip. By leveraging the existing popularity of the meme and adding its own twist to it, Domino's generates a sense of relevance and humor, appealing to its target audience. This quick response to current trends demonstrates the agility required to succeed in the fast-paced world of social media marketing.
In both examples, Netflix and Domino's effectively incorporate memes into their ads by leveraging existing meme formats or creating their own. By doing so, they tap into the cultural currency of memes and leverage their relatability and entertainment value. By aligning their brand with popular memes and creating humorous connections, these companies successfully capture the attention and engage with their target audience in a way that feels authentic and relevant.
IKEA
Bernie Sanders seems to be the King of Memes in the political world. From "I am once again asking for your financial support" to the Inauguration of Joe Biden chair meme, Sanders has made waves across social media by sparking thousands of photoshopped memes. IKEA, the famous Swedish furniture maker, took the opportunity and made a "get the look" ad by promoting its fold-up chairs and mittens for people wishing to dress like Bernie. The meme itself became a social phenomenon spanning every social platform and an opportunity to capitalize on the emotion behind Sanders' position. It's relatability focused specifically on the perceived interactions at the inauguration, a reaction to the environment, and the balance between his casual and professional look.
Microsoft
You know something is trendy when Fortune 500 companies start using them. We came across a Microsoft meme ad that featured one of their tweets saying the following "Us: 'AutoSave' You: 'Manually saves again just in case'." Everyone has had that one incident when they didn't manually save a file, and the file is gone forever. Microsoft used its own brand and customer pain point to highlight the nature of its product use while connecting with its audience. This relatable meme and tweet have gained great engagement (almost 100k likes!) because the best humor is being able to laugh at oneself.
NUGGS
NUGGS utilizes an advanced soy protein technology that enables a hyper-realistic simulation of the texture and flavor of an animal-based nugget. Aside from their bold and memorable branding, NUGGS' social media presence is equally unforgettable. Many of their ads twist well-known memes to fit their brand narrative. For example, instead of using "People in the 1920s vs. People in the 2020s," NUGGS uses the illustrations to portray "Me when the nuggs arrive vs. Me when the nuggs run out." The meme formats focus on showing the emotional response to the product and why people should be enjoying them. The purpose of these memes is not only to spark excitement, but also to address elements of non-meat-based products, and raise brand awareness. In addition, the signature red border draws users' attention while scrolling, making them pause and read the ad.
Recess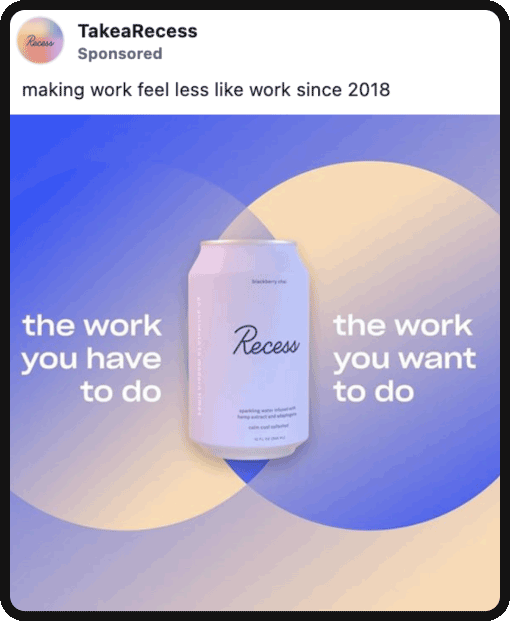 Recess is sparkling water infused with hemp extract and adaptogens for balance and clarity. Their focus on pastels makes their branding very "millennial," and they have a strong social media presence. On their Instagram grids, they often post trendy memes such as the GameStop graphic. Aside from having a memorable Instagram page, their ads are often humorous as well. The left meme ad demonstrates how the product's goals are to restore balance, the balance between the work you want and don't want to do. Their graphics are also colorful, often playing into their "balance and clarity" personality.
Invstr
Invstr is an app that helps users to overcome knowledge and financial barriers and become better investors. In this ad, they featured the Stonks Man with the following caption: "Don't Be Stonks Guy." Stonks is an intentional misspelling of the word "stocks" and the meme character stands in front of a picture representing the stock market. This ad is effective in how it twists a well-known meme into something that fits more with their brand motto: to overcome knowledge and financial barriers. Invstr utilizes a finance meme that pokes fun at the industry to show how they're different from the traditional finance world.
BarkBox
BarkBox is a monthly subscription service with dog toys, treats, and goodies. Unlike most brands that try to promote their products on Instagram, BarkBox has entirely transformed its Instagram account into a meme account. From the success of their Instagram, BarkBox also has some funny meme ads that truly grab users' attention. For example, the top carousel ad features a dachshund, a short-legged, long-bodied dog, with the text "How quarantine is starting to feel:" (hint: the answer is very, very long like a dachshund). By showing an image that represents their message instead of straight-up writing out their message, BarkBox's ad allows users to understand their message instantly with imagery.
Ventract
Ventract is the #1 project and construction bidding software for property managers who are looking for contractors or a vendor looking for new projects. In this ad, they used the famous Twitter handshake emoji meme: the meme (or tweets) of simply using a handshake emoji to connect similar ideas. By using this meme format, Ventract easily portrays how they can connect property managers and contractors through a simple graphic instead of trying to find the right language for the right audience. 
Bad Meme Examples
Although there are brands that have a good intuition when it comes to experimenting with meme ads, there are also brands that haven't necessarily tapped into the potential that this new type of ad can offer.
Cheezit on Reddit
Reddit is one of the most popular sites on the internet, and every day, more marketers are using the site for advertising purposes. Cheez-It, a well-known cheese cracker company, started advertising on Reddit earlier; unfortunately, the company's efforts did not prove themselves successful. Trying to mimic the famous "Galaxy Brain" meme, Cheez-It picked new illustrations that were not well-known or easily recognized. In other words, they completely missed the mark with the key elements of relevance and relatability. Additionally, the fonts are hard to read, and they aren't the classic meme fonts, such as the Twitter font. Aside from the design of the ad, the content is also not great compared to other brands in the space, such as the NUGGS meme we mentioned earlier. With this Reddit ad, Cheez-It is trying too hard to be funny that they missed the intention of the meme and the humor.
Facebook App
When first seeing this ad, your audience is not sure what is going on. The use of  "National Pizza Day" did not resonate or feel related to Facebook's platform as well as out of place. This left their audience confused. Are they trying to mimic the Dolly Parton meme? Or am I reading too much into this, and this is simply just an ad for engagement? If this were an ad for a pizza shop, ok, fine. But no. This was for FACEBOOK!
Growth Perspective
NoGood knows memes. Over the past few months, we have been testing and incorporating more memes into our feed and advertising. From years of testing with the best clients and industry leaders, we have seen increased engagement and impressions with our memes. Across the board, as we have incorporated memes that fit our clients as well as our brand, we have seen our audiences be more receptive and excited about other content offerings. We see direct correlations between our posting engagement, followers, and overall saves.
Memes truly represent a core facet of amazing social and digital marketing strategy. We see a perfect blend of brand, creativity, and data pushing meme culture forward as a tool for all marketers.
If you're looking to up your brand strategy or social strategy or need a partner for your memes, we have the tools and people to push your strategy forward. Come talk to us; we're ready to help you grow.