It's Barbie's world – we're all just living in it. Greta Gerwig's 2023 Barbie was one of the most highly anticipated film releases of all time. Inevitably, a movie starring the world's most famous doll attracted audiences spanning every generation. But how did its unparalleled marketing tactics spearhead Barbie's demographic and advertising transcendence?
A Brief Barbie History
Barbie, the iconic Mattel Inc. emblem, was introduced in early 1959. Ruth Handler, co-founder of the toy company alongside her husband, pioneered the doll's introduction, naming Barbie after their own daughter.
Barbie dolls, distinguished by impossibly willowy figures and apparel deemed provocative by concerned parents, incited controversy from their very inception. Mattel quickly mitigated this issue by broadcasting Barbie directly to children through family-friendly, educational television, proving her a suitable toy aisle pick.
The dolls soared in popularity over the ensuing years, and consumer demand generated epochal Barbie introductions, most notably that of her boyfriend, Ken. Succeeding his 1961 debut, Barbie's best friend, Midge, and little sister, Skipper, were respectively originated. Barbie assumed numerous professions through unique doll editions, like flight attendant, nurse, and astronaut, in an effort to acquaint young girls with diverse career paths and encourage them to follow their dreams. The quintessential Mattel universe continued expanding throughout the 1970s, but to the chagrin of consumers, the first African American and Latina Barbies were not established until 1980.
At her launch, Barbie delineated the archetypal all-American girl, but came to amplify her image succeeding Mattel's globalization. Expanding among key markets in Europe, Latin America, and Asia, Barbie dolls later assumed a variety of ethnicities, nationalities, body types, and ensembles. By the 1990s, Barbie was internationally recognizable, and consequently, Mattel opened engaging advertising attractions, like the combination Barbie store, spa, design studio, and cafe in Shanghai, offering a host of felicitously hot pink merchandise.
From DreamHouse to Hollywood
Barbie furthered her acclaim following the institution of her eponymous media franchise. Streamlined in the 1980s, the legendary doll became a transmedia advertising avenue. Referred to as the "Barbie cinematic universe," one of the highest-grossing media series of all time, its films and the Mattel toys formed an exceptionally canonizing promotional cycle.
Barbie and the Rockers: Out of This World made its television premiere in 1987. Its success eventually led to 2001's Barbie in the Nutcracker, the first of over forty massively revered, computer-animated feature films. Among this collection, other beloved titles include Barbie as the Princess and the Pauper, Barbie as Rapunzel, and Barbie: Mermaidia. As the Internet continued altering the digital landscape at the turn of the century, Mattel further integrated Barbie into modern media facets, including computer games, web series, and streaming media content.
In addition to her full-length movie franchise, Barbie is now the star of four short films, five online comedies, two animated series, two television specials, and seventy-four video games. These digital ventures subsequently inspired over four hundred children's and young adult books, one hundred comics, and thousands of derivative Mattel toys. Needless to say, Barbie is one of the most legendary characters and prosperous brands of all time, boasting billions of dollars in revenue.
The doll's undeniable acclaim laid the groundwork for Greta Gerwig to tackle the most recent and most evocative, Barbie-inspired cinema to date.
Who is Barbie's Target Audience?
Mattel's Barbie demographic may be young girls between ages 3-12, but the target audience of Gerwig's 2023 film far exceeds this population. Female viewers of every era largely compose Barbie's projected public, from the Silent Generation, who purchased the first Barbies for their children to Gen Alpha, the newest Barbie consumers.
The film conveys the patriarchy's adverse effects on womanhood and the consequential disadvantages and explicit sexualization women face. However, it also touches upon the ways in which men are harmed by toxic masculinity, captivating male audiences of varying ages.
In other words, Barbie's target audience is everyone. While the film's demographic-defying, soul-stirring production is at its heart, enticing diverse audiences to see Barbie in theaters required innovative tactics– principally, unprecedented advertising.
Barbie's Most Gripping Marketing Campaigns
Trailblazing director and iconic subject matter aside, one pivotal element differentiated Barbie from nearly every other film in Hollywood's history– omnipresent, viral marketing. From fashion brands to fast food chains, over one hundred collaborations were orchestrated to promote its release. Summer 2023 became analogous with Barbie pink, a feat accredited to Gerwig's perspicacious promotional team.
Let's take a comprehensive look at a few of the movie's most indelible marketing endeavors.
1. The Barbie Character Posters
The Barbie character posters were the most buzzworthy topic online following their spring debut. These promotional images, revealing the film's star-studded cast, displayed vibrant headshots and brief role descriptions of each character, such as Issa Rae's "This Barbie is President" introduction.
The Internet catapulted this photo layout into overnight virality by inserting personal images and captions onto the Barbie posters through the film's official Selfie Generator. Under her personalized rendition, TikTok personality Eli Rallo writes, "This Barbie is Proud of her Jersey attitude," while infamous dance instructor Abby Lee Miller captions hers, "This Barbie is At the Top of the Pyramid."
Integrating meme and user-generated content potential into Barbie advertisement, Gerwig's marketing team emerged triumphant from the outset.
2. Barbie's Airbnb DreamHouse
In the film's most grandiose promotional venture, the classic Barbie DreamHouse, "hosted" by Ken, was bookable on popular vacation home rental platform, Airbnb. The pink-slathered Malibu mansion allowed guests to indulge in the ultimate immersive Barbie experience. While the oceanfront "picture-plastic paradise" was only rentable for two nights, it had the entire Internet talking. Renovated with careful attention to the details of Gerwig's film, the not-so-humble abode comprised one of Barbie's most successful marketing campaigns.
3. The Barbie Burger King Meal
Barbiecore permeated even restaurant chains, leading Burger King to launch a limited meal in honor of the movie. Among its Brazil locations, the fast food franchise's Barbie specialty included a cheeseburger topped with bright pink sauce, a strawberry milkshake, and donut, and "Ken's potatoes," befittingly plain french fries inspired by a doll nicknamed "just Ken."
The meal quickly amassed shareability, with ample social media discourse surrounding the centerpiece repugnant, Pepto-Bismol-reminiscent burger. All publicity is good publicity, right? Barbie's marketing team would be inclined to agree, as they strategically anticipated the unusual Burger King meal would stimulate talk of the film's debut.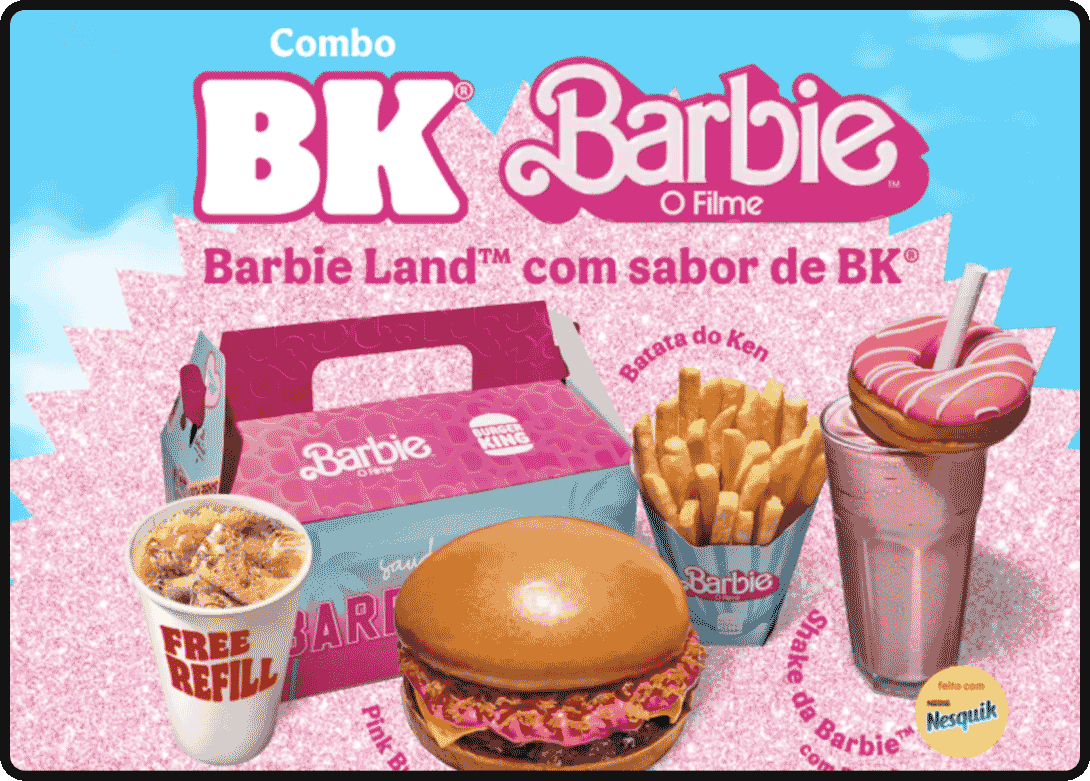 4. The Barbie Soundtrack
Across every digital platform, Gen Z and millennials vocalized their excitement over Gerwig's film release. Consequently, Barbie's marketing team amplified anticipation surrounding the film by curating its soundtrack, ensuring it included these demographics' most revered musical icons. Barbie: The Album incorporates singles by the hottest names in pop and hip hop, like Dua Lipa, Billie Eilish, Ice Spice, and Nicki Minaj. Following the tracklist's announcement, fans eagerly anticipated the album's release, generating promotional buzz and intriguing these artists' listeners.
5. Barbie Xbox Content
These Barbies are gamers! In preparation for the Warner Bros. Pictures release, Xbox teamed up with Mattel to produce exclusive Barbie-inspired Forza Horizon 5 in-game content. Highlighting Barbie's signature optimism and flair for self-discovery, Xbox users were granted the opportunity to follow the doll throughout a virtual Barbie Land, "following in her high-heeled footsteps." This partnership proved an excellent method for expanding Barbie publicity toward the console's male-skewed demographic.
Lessons to Learn from Barbie
What can every advertiser learn from Warner Bros.' indisputable box office success?
1. Cultivating A Brand Identifier
Barbie conjures thoughts of its movie through a single color. Barbie Pink is a brand identifier inseparable from Gerwig's film, its promotion encompassing pink billboards, pink outfits, and the pink carpet. What emblem will your brand develop?
2. Prioritizing Brand Partnerships
Through an avalanche of product collaborations, manifold consumer demographics become familiar with Barbie and its release date.
3. Creating Immersive Promotional Experiences
From vacation stays to themed restaurants, Barbie marketers organize events that indulge audiences in the film's culture, proving a remarkably memorable promotional strategy.
How Has Barbie Shaped the Future of Movie Marketing?
Gerwig's movie has irrevocably and exponentially raised the bar for future film advertising endeavors. In order to attain Barbie's high-grossing status, we can expect forthcoming blockbuster releases to outstrip the standard movie trailer.
Barbie's dozens of brand deals, posters geared toward virality, and celebrity-status soundtrack may have been an anomaly at the film's inception, but one thing is certain– these marketing approaches have strikingly altered the future of cinema.