Over the past 5 years or so, the no code and low code space has exploded with exciting new companies and products enabling creativity and innovation at an unprecedented scale. It's estimated that around just 0.3% of the world's population knows how to code despite the importance of code to the modern-day tech-powered economy. Many of the companies in this space aim to empower the 99% of people who lack the technical skills or money to hire developers. The internet empowered the free flow of knowledge and enabled anyone with an internet connection to learn anything; but even with information readily available, learning to code is an extremely arduous and complex (not to mention time-consuming) task. No code or low code solutions offer a shortcut – leveraging the power of code but abstracting away the complexity.
With this new generation of tools, ideas that would have required piles of money or people with highly technical computer science skills just 10 years ago can now be built by anyone and in a fraction of the time.
Lower-code tooling has begun to help make software applicable to a wider set of users, more quickly. You can now build a blog, forum, community, mobile app, and a whole lot more without ever writing a line of code. It's hard to find any concrete numbers but the investment world seems to have noticed this trend, too. In 2021 alone, there have been countless investments in the space from the small, like Adalo's recent $8M Series A, to massive, like Zapier's recent secondary at a $5 billion valuation. It's clear that the future is bright for the no and low code space.
Beyond companies in the space raising money, early-stage startups have raised serious money on MVPs powered by no/low code. Communities like Makerpad (acquired by Zapier), NuCode, and NoCode Community have cropped up to empower this new generation of makers offering tutorials, tools, case studies, new apps, and other resources to help anyone find a solution for what they want to do. Even in the early innings, the creativity seen by creators in the space is unprecedented.
What is No Code / Low Code
Put simply, no code / low code is a method and a movement of programming that doesn't involve writing code. Instead, this process is empowered by Graphical User Interfaces (GUI) where people can use templates, drag-and drop-functions, and logical sequences to bring any digital product to life. These tools take this visually oriented input and generate code in the background.
The emerging category is fueling the increasing democratization of software development and unlocks endless possibilities for anyone with access to a computer and the internet.
No code and low code tools are not about eliminating code or engineers but instead about making life easier for coders while opening access to everyone. They're about abstracting away the complexity of code to focus on design and logic. When leveraged to their full potential it means no longer having to do boring, mundane, and off-project tasks.
"Civilization advances by extending the number of operations we can perform without thinking about them."

Alfred North Whitehead
Benefits of No Code / Low Code Platforms
Better Agility and Speed
By abstracting away complexity, tools in this space enable enhanced productivity from marketing, design, and other teams who can build various assets independently and launch their initiatives fast. Engineers no longer have to be pulled to create each and every form, app, or dynamic page.
Reduced Cost
Developers are expensive. Talented developers even more so. No-code solutions give you a way to bypass that and enable companies to save each time a project can be completed without the involvement of expensive engineering resources and scarce technical talent.
More Productivity
Since these no-code apps can be built at a much faster pace, the developer staff isn't overloaded with requests from every other department. In turn, fewer people are waiting for you so they can get their work done.
Easily Changeable
With traditional hand-coding, the problem is that you can't really change a functionality or a feature at the drop of a hat. Especially when the coding language is foreign to you. A no-code development platform is the exact opposite. If you need to change something you've developed, all it takes is the new logic, and you can implement the change in a matter of hours.
Easier Testing and Experimentation
Teams using no code tools have more freedom to test their ideas now that they can build and modify their tools, websites, and other assets. Once new insights are discovered, teams can continue to iterate quickly and gain a competitive edge.
Better Tools
No-code empowers functional teams like marketing, sales, HR, and operations to build and maintain their own internal tools and workflow automation. These teams "understand their own problems the deepest," says Justin Gage, head of growth at Retool "Enabling them to build their own apps means better tools, faster turnaround times, and, ultimately, a more efficient company."
Top No Code / Low Code Tools to Empower Your Marketing
We've separated out this list into 5 core categories or problems no code is working to solve for companies or all shapes and sizes. Many of the tools on this list have crossover use cases that could land them in multiple categories but that just really shows the exciting development in the space. Many of the companies on this list have raised money in the past year or so and product development is pushing capabilities further all the time.
Website and Landing Page Builders
Webflow (Our Top Pick in this category)
Webflow features a variety of templates to get started and an intuitive drag-and-drop user interface to help bring your website from idea to launch quickly. Whether you decide to start with a template or to build from scratch, Webflow enables anyone to build a highly customized website with powerful animations and interactions without ever needing to touch a bit of code. Unlike some of the other builders on this list, Webflow is rooted in the standard grid of the web — but with the right creativity, skills, and time, the possibilities are pretty much infinite. As an added bonus Webflow features a passionate community, a growing platform of integrations, and the best educational content we've ever seen. The learning curve may be steep, but at least you'll be laughing through the lessons.
MMM is a website builder like no other because it gives the user complete freedom and room for creativity. This no-code tool is the epitome of drag-and-drop as it allows the user to drag shapes or elements, resize them, and add text anywhere on the page – it's that simple. MMM compares the tool to a collage, which sets it apart from other web builders out there who still rely on the standard grid as the basis for design. Try it out for yourself here or check out this gallery of inspiring MMM sites.
Price: Free (while in Beta)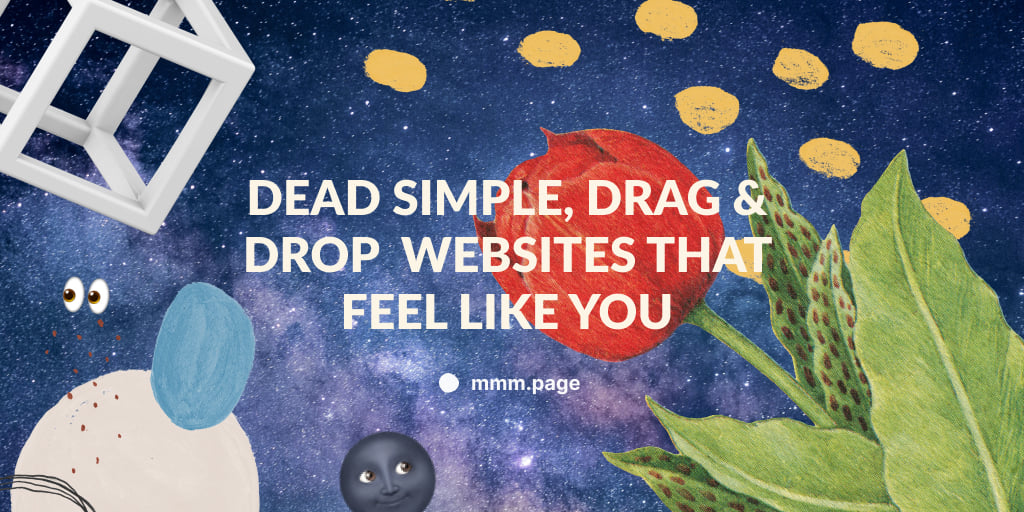 Cargo is a versatile website builder with design-first templates to create beautiful and flexible websites. Cargo encourages customers to use their templates to build their websites and provides examples and support to help you get started. Cargo's templates are very geared towards creative industries and the tool is most often used for portfolio websites. In addition, Cargo has partnered with Dinamo, which expands its collection of fonts for customers and opens the space for incredible creativity and flexibility.
Price: N/A
This website-building platform is just right for anyone who wants to have complete control of specifics in a website without having to write any code. Doric offers 130+ UI components and beautiful templates to help you save time when getting started along with easy-to-use controls to adjust sizing, placement, and other settings. Doric offers hosting with its paid plans or you can also export the clean HTML/CSS code to host yourself with the Premium plan. Currently, Dorik only supports one-page sites but if you're looking for an easy landing page builder with easy integrations Dorik may be the tool you're looking for.
Price: $36/yr for 2 domains, $60/yr for 5-100 domains
Instapage is the go-to platform if increasing conversions is your team's goal. This feature-packed platform offers everything from landing pages to experiments to ad campaign tracking. Instapage also has intuitive workflows that allow your team to better collaborate and formulate campaigns that take your conversions to the next level. In addition, the conversion wizard has free post-click performance scores to see how your site is performing and how it could improve with its service.
Price: $999/month for the optimizing plan with 70k monthly unique traffic
The website builder category is probably the most prolific category of no-code / low code tools and we want to save space for other categories but for more options check out:
App Builders, Mobile and Web-Based
Bubble.io (Our Top Pick in this category)
Bubble (claims to be) the most powerful no-code platform, empowering entrepreneurs to build production-ready web apps, SaaS platforms, marketplaces and CRMs all without code. With their no-code offerings, you can design and prepare a website or app for launch, then prototype it before making the actual investment. This sequence of development ensures that you present a high-quality product at launch. Bubble also helps you scale with robust, hosted infrastructure so you don't have to worry about server maintenance, infrastructure, or operations. The company is building a robust ecosystem of educational materials, plugins, templates, a marketplace, and more to enable the next generation of non technical app developers.
Price: $25/month for Personal account with Custom Domain
Adalo makes creating apps as easy as putting together a slide deck. It enables anyone to turn an idea into a real native app with an intuitive drop-down menu for app creation with drag-and-drop options and easy integrations. The company just raised an $8 million Series A round and has very exciting and ambitious plans for the future. The company has a rapidly growing community of customers who have proudly built their creations with zero code and a growing marketplace of third party components to empower any ida. Unlike normal app development Adalo makes it easy to push changes and updates quickly and easily.
Price: $50 / month designed for those looking to launch their first app.
YCode is the Photoshop of website building, as the platform provides a full set of controls to edit your website as you see fit, with 0 code. The service allows you to authenticate users and offers built-in databases to manage all your data analytics in one easy-to-use platform. YCode is the perfect solution for designers and startups, giving you the ability to edit your website at will with speed and efficiency, without the need for a developer.
Price: Still in Beta
Shoutem, is a mobile app maker platform that enables you to build, publish, and manage high-quality native iOS and Android apps. Shoutem
provides existing templates to kick-start your app development in no time, with zero coding skills required. For busy builders Shoutem also offers a
full-service program where the Shoutem team will build your app for you and help you maintain it when changes are needed. It doesn't get any easier than that.
Price: $79 per month for standard package with 2GB of cloud storage
Draftbit is a simple drag-and-drop platform for app development, with no long waits for a product to be ready. Don't let the no-code options fool you, Draftbit also creates production-ready source code at every step. And that code is based on open-source frameworks and libraries, so you're never trapped. Finally, this platform also excels at providing API connections and integrations to many of these connectors, ensuring your data is clean and reliable.
Price: N/A
Glide is revolutionizing the way apps are built with a simple promise: Google Sheets to an app in 5 minutes. These spreadsheet-based apps are incredibly powerful due to their nature of being very logistical and data-dependent, so the captivating templates for each use case make app creation a breeze. Glide literally lets you glide through the app creation process without friction, even if you're a non coder, while still offering tons of resources like online experts, documentation, video tutorials, an ever-growing community of app builders, and more.
Price: $32/ month for mobile, tablet, and desktop layouts
Data & Developer Focused Products
Obviously AI (Our Top Pick in this category)
Obviously is a state-of-the-art platform that allows users to apply machine learning methods to your data set without having to program. This powerful platform allows marketers to model and predict sales, lead conversion, and revenue optimization. Obviously, AI allows you to be an expert in predictive analytics with just a few clicks.
Price: $145/month with an on-call Data Scientist to assist you
Clay helps you eliminate monotonous copying and pasting from countless tabs or writing custom scrapers. Whether it's lists of people and companies from directories, search engines, or any website, Clay already understands the web, so all you have to worry about is qualifying your leads as potential prospects, not data gathering. All of this without the need to write fancy code; it all lives in the Clay environment.
Price: Still in beta, request access here
Lago is the platform for all of your data management tasks. With its no-code layer, the Lago platform allows you to build your query with an intuitive data calculation builder. This product was created to make working with data an effortless task and it's also incredibly useful as it allows you to centralize your data, so you can collect and share customer data from one platform. Finally, this platform has been developed by growth leaders, so you can be sure that your needs will be met, and your main focus can go back to being the best growth marketing leader.
Price: N/A
Gyana lets non-technical people run data science analytics on any structured dataset. The platform empowers "citizen data scientists" by letting users upload any structured data set (for example, a .CSV file) and running a series of queries on it to be able to visualize trends and other insights more easily. With Gyana you can create data science reports with powerful insights that would have taken days in a few clicks instead.
Price: free for up to 20k rows of data and £39 /mo for up to 200k rows of data
Above was created for developers, digital leaders, and application owners who need fast and straightforward solutions without programming knowledge. Above provides an abstraction layer that collects server data on a virtual platform where it is modeled and manipulated with its own logic. This virtual platform allows its customers to plot, process, and securely manage their data, all in one platform.
Price: Free – Still in Beta
Spreadsheets on Steroids / Numbers, Finance, Modeling / Low-Code Analytics & Dashboards
Airtable (Our Top Pick in this category)
Airtable combines the functionality of a spreadsheet with the data wrangling powers of sophisticated databases, all without having to enter in a single formula. Whether you need to organize a calendar of project deliverables, compile a customer list, or organize any other type of information, Airtable makes it easy to create and collaborate. The modular system gives you a lot of freedom in creating exactly what you need for yourself and enables easy sharing with others.
Airtable's recent Series E funding round of $270 million brought the company's valuation to $5.7 billion and the company says they plan to use the funding to continue building out its app ecosystem to enable infinite enterprise use cases.
Price: Free to get started with limited functionality, $20 a month for Pro unlocking the majority of features
Stackby's version of spreadsheets really changes the game by providing a single platform for managing all your marketing efforts and campaigns. This one-stop-shop tool allows users to organize all their various data in one place, provides API connectivity to any app, offers automated email and alert notifications, and gives you a real-time view of your data. So you can have your ahrefs SEO data, with your Facebook campaign data, with youtube analytics and google analytics all in one place. If that's not impressive, don't forget Stackby also offers to host your fully customizable database online. All this with the ability to share your data with your teammates with a single click.
Price: $18 / month per user , intended for growing teams & comprehensive collaboration
airSlate has a plethora of key services for all those businesses that want to improve their processes. Some of the equipped services under this platform include document creation, payments, form creation, and many automated processes. You also don't have to worry if you don't know how to set up these automated processes: airSlate takes care of that by offering free courses to all of its customers, ensuring that anyone can become a "citizen automator." If taking a class is too big of a time commitment for you, don't worry, this amazing company also offers tutorials through their blog.
Price: 30 / month with unlimited access to Slates
Form Builders
Involve.me (Our Top Pick in this category)
Involve.me helps turn your online presence into a genuinely interactive experience, involve your users in personalized customer journeys from acquisition to retention. The platform offers form creation solutions for industries such as marketing, media, eCommerce, and even education. We chose this as the top form builder because it serves use cases from acquisition through retention with templates for quizzes, contests, online forms, payments, surveys, landing pages, and many more. The great resources also include blog posts, tutorials, and templates so you can get started as quickly as possible and connect with your customers now.
Price:49/ month for Professional version with 5,000 submissions a month
Typeform does surveys differently because their approach is "human-feel first", so their focus is on design and user experience. By asking questions that are animated more like a conversation, Typeform aims to provide forms that open a space for candid responses to increase completion rates. This can be used to get honest feedback, conduct research that isn't intimidating, and generate leads that actually like your brand. Last but not least, Typeform offers templates for all your form needs and also has an API connection to all your favorite data platforms so you can track and analyze your data after the fact.
Price: 35 / month with 5,000 submission per month and custom thank you screen
Paperform is more than just a simple form builder. The tool enables anyone to quickly and intuitively create beautiful online forms, payment or product pages, appointment scheduling pages and more, without any technical knowledge. Paperform lets you customize your forms to look more like landing pages and the product includes integrated analytics and analysis as well.
Price 32.50 / month for Pro version with unlimited fonts and submissions
Coffee Chats describes itself as "The Easiest Scheduling Tool + Website Builder". You start by choosing from a dozen free, fully responsive site templates and personalizing it with our easy no-code editor. The app is perfect for professionals looking to sell their knowledge and insights with easy payment integrations.
Price: N/A
Internal Tools & Internal App Builders / Workflow Automation Tools
We're still trying to wrap our heads around this category and the potential solutions that could be solved using these tools. We use Notion internally to keep our projects, notes, and goals organized across clients and internal initiatives. Notion could fit in this category or a couple of the categories on this and the company has done an incredible job with growth over the past few years. We will be updating this section with additional tools in the future.
This modern service offers the ability to create internal tools for you so you can focus on what matters most. The wide range of tools Flowdash promises to deliver on-demand includes customer claims processing, employee onboarding, content moderation, and more. Moreover, Flowdash also empowers its customers as it allows them to build their own tools without writing a single line of code but with the same level of sophistication.
Price: $100 / month for 5 Users and 10,000 Tasks
Parabola claims to be your toolkit for faster, smarter work. The tool enables you to automate any manual task you usually do in a spreadsheet. Connect your data, arrange your steps, and forget about hiring that developer. To be a builder, you don't have to come from a technical background, or know how to write code. Your computer should work for you.
Price: 14 day free trial and $80/ month for Pro. Free plan with limited functions also available.
Rows (previously dashdash)
Rows is a spreadsheet that helps you bring all your data together through seamless integrations with the tools you use every day. You'll have spreadsheets enriched with all the data you need in a single workspace. Wave goodbye to multiple tabs and copy&paste! Rows enables sales, marketing, and operations teams to work more efficiently by offering ready to go templates that help automate manual tasks these teams often perform.
Price: Free for basic needs, $59/month for Pro which includes unlimited workspace members, hourly updates, and more
Simplify your no-code backend with Whalesync. Whalesync is a database synchronizer that enables no-coders to automatically sync their data across tools like Airtable and Webflow. Rather than set up dozens of fragile Zapier automation, link your data together with Whalesync and never worry about data consistency again.
Price: N/A
Beau is a tool to build no-code client workflows. Intake and guide clients through business processes with Beau with an easy way to build, visualize, automate workflows, and design a path to guide clients through step by step. Beau is "optimizing for the last mile of customer experience" and they have one of the prettiest sites on this list.
Conclusion
In a recent TechRepublic interview Webflow founder, Vlad Magdalin said "if you take the full possibilities of code, no-code has probably solved maybe 10, 20% of that, but it's rising really rapidly, that's the thing that's really exciting to see." At the present to truly unlock the power of many of these tools you'll need someone with some knowledge of code but as development continues hopefully we'll see integrations that lessen this need to truly empower the next generation of creators on the internet. Until then, we'll be following the space closely, and we suggest you do too because this is the future of technology (along with blockchain related tech) and it's just the early innings.