If you've been on a run (or a walk — you do you) recently, you've likely noticed less people wearing the ever-present Nike or Adidas running shoes. Instead, you'll see joggers wearing running shoes one could almost call "ugly," with comfortable-looking thick soles that make you wonder if they are running on clouds.
Introducing HOKA ONE ONE (more commonly known as HOKA), the sneaker brand that UGG parent company Deckers acquired for $1.1M back in 2012. 10 years later, the underdog athletic brand is generating $1B in sales for its parent company, marking a major shift in the athletic footwear market typically dominated by the likes of Nike, Adidas, Reebok, and other bigger and more successful names.
The secret behind HOKA's considerable growth lies in its ability to 1) identify a specific need in a market, 2) build a standout brand identity, and 3) scale the (initially niche) brand with finely-tuned marketing efforts. Let's unpeel each of the multiple layers of HOKA's marketing approach and how the brand came to dominate its shoe category.
HOKA ONE ONE: The Origin Story
HOKA ONE ONE, or simply HOKA, wasn't initially born out of a lofty goal to take over the oversaturated performance footwear category. It wasn't a product of an executive brainstorm session at the headquarters of a large athletic gear brand. Rather, HOKA was the brainchild of two avid trail runners on a quest to find a solution to a problem for their niche community.
Founded in 2009 by Nicolas Mermoud and Jean-Luc Diard, the brand's name itself is derived from the Maori language phrase "hoka one one," which translates to "fly over the earth." The founders' mission was clear: they sought to design a shoe that would allow them to fly, or at least feel like it, over the rugged terrains of mountain trails.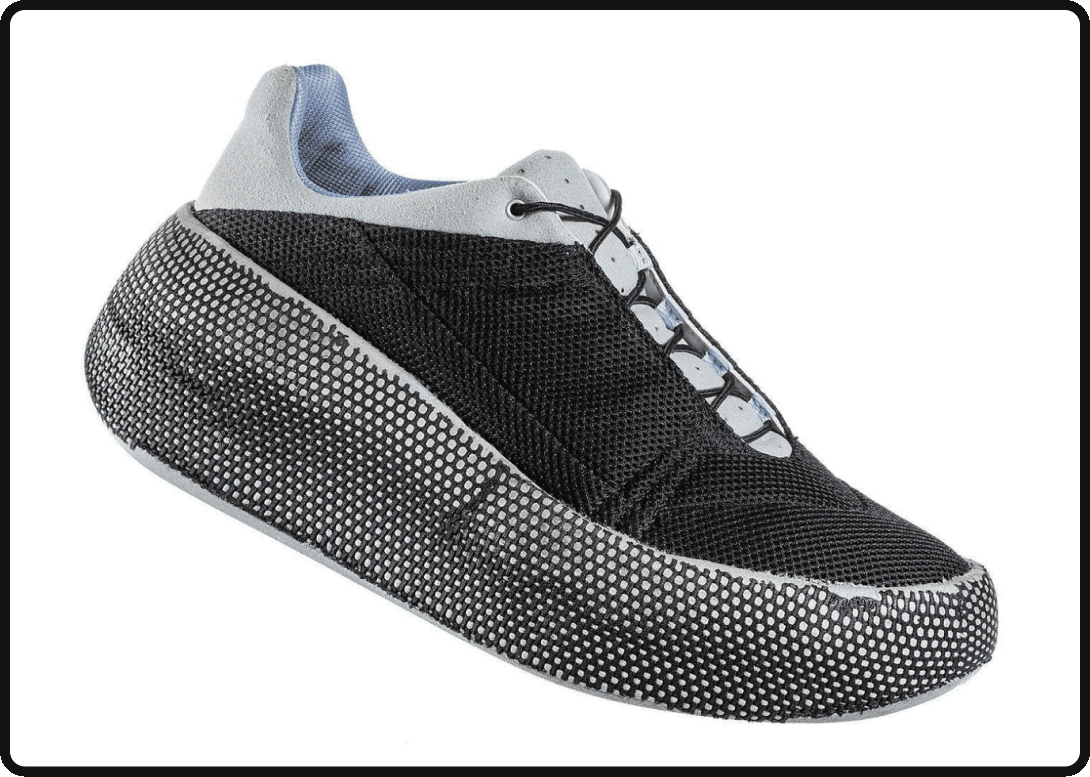 Both Mermoud and Diard were not satisfied with the footwear options available in the market for tackling demanding mountain terrains. They envisioned a shoe that could provide superior cushioning to enhance downhill running, while also offering improved stability. This led to the conceptualization of the brand's signature maximalist design – thick-soled but surprisingly lightweight.
Starting in the French Alps, the brand began to garner attention for its unconventional (later known as "ugly") design. The initial reactions were a mix of curiosity and skepticism, but as more athletes tried them on, they began to experience the benefits first-hand. Word spread about these peculiar-looking shoes that defied the traditional, sleek norms of shoe design but delivered on performance.
HOKA's story is a testament to the idea that intentional solutions to real problems of specific communities and personas can disrupt industries. What began as a personal quest for better trail running shoes transformed into a global brand that's reshaping the athletic shoe market and setting new benchmarks in footwear design and performance.
HOKA's Path to Success
Phase 1: Brand Genesis
Solving a Niche Problem
To decode the science HOKA's swift rise to the top, it's important to understand the roots the brand stems from and the DNA it managed to preserve even after growing into a billion-dollar brand years later.
At its core, HOKA started as a passion project with the intention of solving a niche problem for a very specific target persona: trail runners. Mermoud and Diard set out to find a sustainable solution that would enable them to run downhill faster. The product map initially wasn't necessarily to create a shoe but a shoe cover that could easily be carried during the trail runs. However, it became clear early on that the duo had to evolve beyond a sole cover into a running shoe while preserving the technology behind the initial concept in the shoe's sole.
The result? A running shoe with a thick, oversized sole that referenced technology from mountain bike wheels and tennis rackets — a shoe that combined superior performance while still being lightweight despite the sheer size of the sole.
Gaining Initial Credibility
While the modern definition of influencer marketing is often associated with creators and social media influencers, in the early 2010s (and particularly in the sports category), brands gained credibility and virality through partnerships with notable figures in the vertical. Some of the largest players in the space — Nike, for example — gained their initial traction (and still do) through major endorsements (think: Michael Jordan, Maria Sharapova).
After presenting the initial HOKA prototypes at a tradeshow in 2009, Mermoud struck a deal with Mark Plaatjes, co-founder of Boulder Running Company and 1993 world marathon champion, to acquire 770 pairs after taking the shoes on a test run and falling in love with the concept. Riding the wave of this initial success, Mermoud doubled down on the strategy in 2010, striking an engagement with ultra-runner Karl Meltzer, who dropped La Sportiva in favor of HOKA and began competing solely (pun intended) in the chunky running shoes.
Phase 2: Brand Evolution
By 2012, HOKA shoes were recognized as a breakthrough technology in the footwear category — but also a breath of fresh air in terms of the unapologetically bold brand identity that defied the minimalistic aesthetic that most brands pursued at the time (and to date). With the industry's mammoth endorsements and Boulder Running Company's endorsement, the underdog brand quickly appeared on the radar for larger players as an attractive acquisition target.
Jim Van Dyne, a brand president at Deckers, was one of the big players who kept their eye on the growing brand. Recognizing its potential as a category-defining product, Van Dyne quickly acknowledged its growth potential and lead the brand acquisition by Deckers — confidently claiming a "95% chance we can get this business over $100 million in five years."
As a runner himself and industry veteran, having worked on scaling Adidas and Keen, Van Dyne had the sharp industry eye to recognize a categorically differentiated product when he saw it. And it's true — HOKA's differentiation was built on two key pillars:
Breakthrough technology (superior performance)
Unconventional aesthetic (bold design, large logo type, bright colors, oversized sole)
While the world was chasing minimalist footwear, HOKA zagged when others zigged. The brand recognized a gap in the market for runners seeking cushioned, comfortable shoes that also provided enhanced performance. This product differentiation became the cornerstone of the company's initial marketing narrative.
Maintaining Brand DNA While Scaling Omnichannel
Immediately following the Deckers acquisition, HOKA was faced with a new challenge: continuing the expansion of the brand while maintaining its core DNA and the two key differentiating factors — its maximalist aesthetic and superior performance of the product. At the same time, the brand had to face the skepticism of the potential consumer base towards HOKA's unconventional looks and push adoption beyond early adopters and athletes.
The first step towards scaling was expanding the brand's reach and physical locations easily accessible to customers across the nation. Within 2 years post-acquisition, the Deckers team increased the number of stores carrying HOKA shoes, while building out a more seamless DTC experience to cover all potential touchpoints customers could interact with the brand.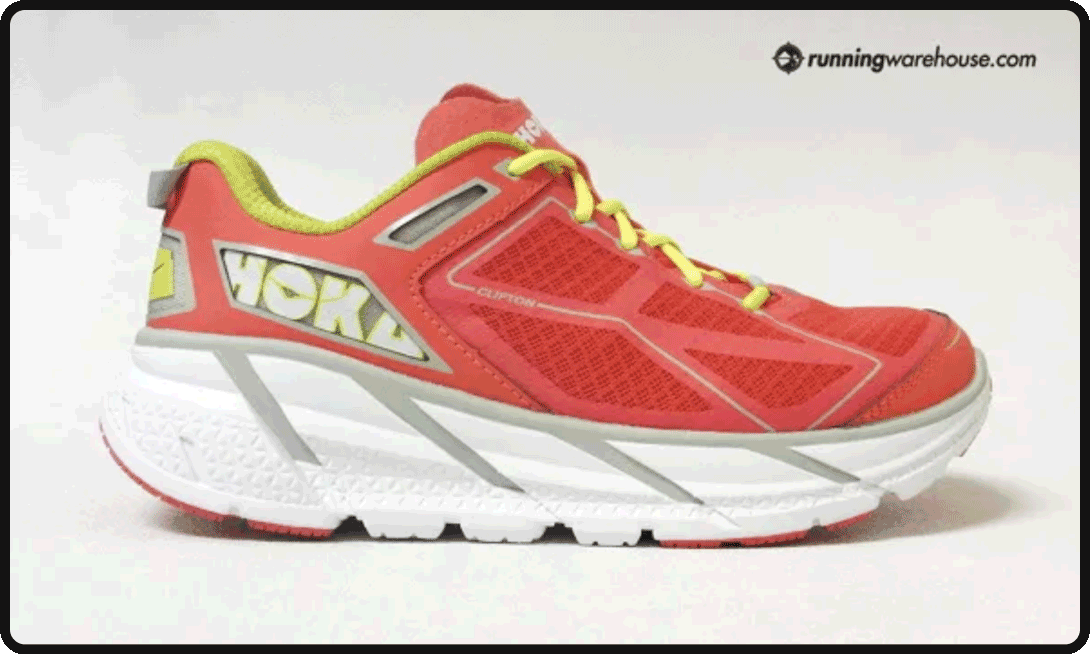 The next order of business was to adapt the product for the general public, evolving it into a go-to sneaker for the average consumer while maintaining the brand's "ugly" oversized aesthetic and comfort. By differentiating the ultra-sized sneakers (meant for athletes and trail runners) from the oversized sneakers (meant for the amateur audience), HOKA expanded its product line to continue catering to loyal customers while tapping into new audience segments and driving mass adoption against the risk of skepticism.
At the core of all the omnichannel efforts, however, one thing remained constant: HOKA never tried to be anything different than the shoe known for its thick "ugly" soles that served both functional and aesthetic purposes. The brand didn't get diluted post-acquisition; it didn't hire external branding and marketing teams to damper its distinct personality. Instead, they rooted their brand moat in the thick soles that, should any brand deploy a similar design, it would be viewed as a "dupe" thanks to the powerful association the brand has with thick soles.
Expanding the Target Market
While HOKA's initial target audience was avid trail runners seeking enhanced performance, the brand quickly broadened its horizon. Today, HOKA appeals to a diverse spectrum of consumers. 
What was so successful about HOKA's expansion strategy, however, was that the brand closely followed the product adoption curve through its initial focus on athletes, trail runners, and recognizable names in the running category — in other words, the "innovators" of the footwear industry. As a result, while the initial ultra-sized models were favored largely by ultra-marathoners and trail runners, the diversified product lines that Deckers introduced over the years allowed for the brand to attract all (oftentimes skeptical) runners — from casual to elite.
The current audience has grown significantly since the early 2010s and ranges from professional athletes and marathon runners to casual joggers, fitness enthusiasts, and even those simply seeking comfortable everyday footwear (think: for hot girl walks). The brand's clever marketing, inclusive representation, and unique product features have also caught the attention of younger audiences, keen on merging style with functionality.
HOKA has also found a niche among consumers with foot ailments, as the brand's cushioned design promises relief and support. By casting a wide net yet maintaining its core values, HOKA has successfully attracted and retained a multifaceted, loyal customer base.
A factor in the audience expansion that should not be overlooked was also the major shift in consumer expectations and needs post-pandemic. At a time when the priority focus shifted from appearance to comfort with the normalization of "work from home" and hybrid workspaces, the change allowed for the rise of the now-popular "comfortable" shoe category, while simultaneously causing the decline of dress shoes. HOKA, On Cloud, and Asics were amongst the most successful examples of how performance footwear brands took advantage of such a major change. 
Today, comfortable sports shoes like HOKA and On Cloud have become a go-to look at a multitude of organizations — from laid-back startups to finance and law firms.
From Niche Focus to Mass Appeal Through Marketing
Brand Moat: Becoming the Running Shoe
After taking a closer look at HOKA's brand evolution, it becomes clear that a lot of the success is due to the brand capital and moat that the brand has accrued over the years. There are a few ways to measure the reach and awareness of the brand's name has carried over the last decade — and show the direct results of the investment that HOKA has consistently made into community-building efforts.
The traction of HOKA's recognizable brand name and offering can be traced back to mid-2018, especially when compared to similar players in the space such as On Cloud and Asics. A quick Google Trends search showcases an incremental increase in consumer interest in HOKA that significantly surpasses the competitors and continues to maintain an upward trajectory even today. The graph also reveals an overall upward trend for comfortable shoes in general — especially with the post-Covid consumer shift towards working from home.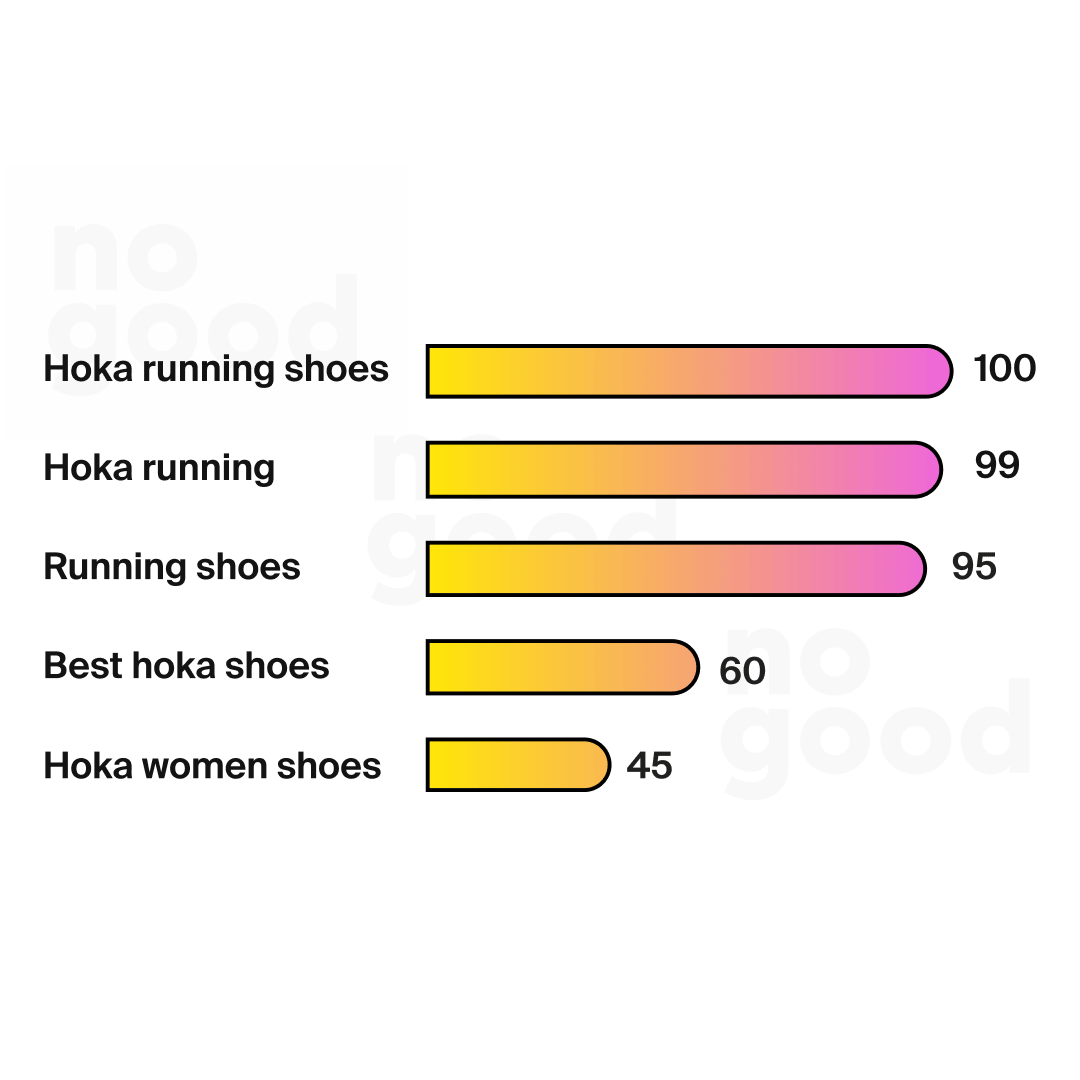 The related search queries also showcase the reputation that HOKA has built as a trustworthy, reliable and quality running shoe.
Digging deeper into HOKA's traffic sources, "Direct" is the primary source for HOKA, followed by "Paid Search" and "Organic." Search (a combination of both paid and organic) is the primary channel where the brand captures consumer interest generated through branding, influencer campaigns, partnerships, and related community-building efforts. 
The fact that 88%+ of the search share can be attributed to branded vs. non-branded keywords speaks volumes to the strength of the HOKA brand and how the brand's primarily brand- and community-led marketing efforts are driving a solid ROI.
What this means is that the brand has successfully built community-led growth loops that create a sustainable influx of interest and brand awareness, minimizing the need for continuous financial investment in driving revenue in the long run.
Engaging with Credible Spokespeople
If you think about it, HOKA's entire grassroots growth strategy began through the brand's targeted work with industry influencers of the time — athletes, and ultramarathoners. Years later, and as influencer work has evolved in itself, HOKA continues to invest in the right partnerships and relationships that continue to add to the brand's credibility across the various consumer sectors it wants to attract and retain.
For example, HOKA has found a niche footing in its collaborations with podiatrists, who advocate on behalf of the brand with their patients and followers with Plantar Fasciitis, a common painful ailment among many runners. To put it into numbers, Plantar fasciitis may affect 1 in 10 runners in their lifetime — which means that for HOKA, this is a massive market to tap into, build a presence and customer trust in, and ultimately drive sales. 
HOKA capitalizes on such medical benefits through its digital presence across a variety of touchpoints as well: for example, HOKA's website often leads with testimonials from accredited podiatrists. The brand also regularly appears on the AAPSM (American Association of Podiatric Sports Medicine) website with information about its product's benefits for the end consumer.
Global Campaigns: Running Beyond the Race
HOKA doesn't merely sell shoes; it sells a community as a result of its expansion beyond niche ultramarathoners and trail runners and its dedication to empowering all runners.
Their marketing initiatives — take their most recent "Fly Human Fly" global campaign (an intentional pun on the brand's origin name) — spotlight real users, from amateur runners to trail runners, joggers, and elite athletes, sharing their personal stories and successes achieved in HOKA footwear, as well as using the product in action.
By fostering a close-knit community of HOKA enthusiasts, the brand has successfully created an army of organic ambassadors. This approach has led to genuine word-of-mouth marketing, the gold standard in terms of effectiveness and authenticity.
Retail Experience: Beyond the Purchase
HOKA has recently made significant investments in evolving its omnichannel distribution efforts by introducing immersive retail experiences in key markets.
Through pop-up and retail stores, the brand has created spaces that serve beyond the typical transactional purpose — spaces where customers can not only buy the shoes but also test them. 
Many HOKA stores offer 3D foot-scanning devices that deliver hyper-personalized recommendations on footwear styles to the brand's customers. Each retail space offers workout classes, wellness services, equipment care, communal events, runs, workshops, and meetups covering a wide variety of educational topics that keep the customers coming back for more.
Running treadmills, VR experiences showcasing shoe technology, and community running events all contributed to transforming a simple shopping trip into an experience.
Notable Collaborations
HOKA has embarked on several intriguing collaborations in recent years that allowed the brand to tap into new communities and attract a larger consumer base. The common denominator of all these collaborations is rooted in building community, extending the product lines to all runners and walkers, and working with brands with similar shared grassroots histories and authenticity.
HOKA x Outdoor Voices (OV)
This collaboration married HOKA's performance-focused design with OV's aesthetic that merges activewear with everyday style. As a result of a partnership, the brands introduced a limited edition of the Clifton shoe, with a unique color palette inspired by OV's distinct color palette and aesthetic. For consumers, it meant a perfect blend of performance and style, enabling them to seamlessly switch between a workout session and a casual day/night out.
At its core, Outdoor Voices as a brand champions recreation, self-care and wellness over competition. Through this partnership, HOKA successfully broadened its appeal beyond hardcore runners further, attracting a more lifestyle-focused audience. This strategic move helped the brand expand its reach to consumers who prioritize both style and functionality rather than performance only.
HOKA x Engineered Garments
Engineered Garments, a New York-based fashion label known for its avant-garde designs, joined forces with HOKA to introduce a fresh spin on the Bondi B – one of HOKA's iconic models. The resulting shoes showcased a blend of textures and patterns, standing out from the typical performance-focused athletic footwear.
This collaboration was HOKA's first official shot at entering the world of high fashion. By marrying Engineered Garments' experimental design approach with its own performance-centric ethos, HOKA positioned itself as a brand able to break out of the performance-specific sportswear share and effortlessly straddle the world of high fashion.
HOKA x Cotopaxi
The collaboration with Cotopaxi, a brand known for its sustainable outdoor gear and bright, rich colors, resulted in a special edition of the Torrent 2 trail running shoe. The shoe incorporated bold, colorful designs akin to Cotopaxi's signature color palettes, paired with HOKA's high-performance promise.
This partnership not only tapped into the environmentally-conscious audience segment but also loudly voiced HOKA's commitment to sustainable practices.
Closing Thoughts
HOKA's path to the summit of the shoe category isn't just luck or a coincidence. It's a direct result of a brand's ability to identify a gap in the market, address a niche problem, introduce a killer product, and maintain a standout identity despite scaling the brand. In a market saturated with established giants, HOKA's rise serves as a masterclass for brands seeking to carve out a distinctive identity and loyal customer base.
HOKA's strategy of handpicking brand collaborations has played a pivotal role in its brand evolution — in how the brand expanded its reach beyond its initial target persona. By aligning with brands across different niches – from high fashion to sustainability – HOKA has expanded its audience base while staying true to its core values. These collaborations also underscore a broader industry trend: the blurring lines between sportswear, everyday wear, and high fashion.