In marketing, AI-powered marketing tools aren't just being used to streamline email marketing campaigns. Many companies have gotten crafty in utilizing these marketing tools – ballooning their conversion rate of potential customers in the process. From creative social media posts to new innovative features that enhance customer satisfaction… these ten marketing campaigns are blazing the trail for marketing AI…

What is an AI marketing strategy?
An AI marketing strategy refers to the application of artificial intelligence by marketers to gain valuable insights into customer behavior and create personalized experiences. By leveraging AI, marketing teams can collect and analyze high-quality data to inform their decision-making process and optimize marketing assets for the customer journey.
AI-driven marketing assets, such as chatbots, targeted advertising, and content generation, offer personalized content and messages tailored to individual customers. Natural language processing enables chatbots to engage in meaningful conversations with customers, providing support and assistance.
AI's ability to handle repetitive tasks and analyze vast amounts of data efficiently allows marketers to segment customers based on their preferences and behaviors. This segmentation enables the delivery of relevant and timely marketing messages through various channels, resulting in more effective marketing strategies.
With AI marketing, marketers can better understand customer preferences and pain points, leading to actionable insights. By utilizing these insights, they can craft highly targeted and relevant campaigns that resonate with customers, enhancing overall customer satisfaction and engagement.
An AI marketing strategy empowers marketers to harness the power of artificial intelligence to gain valuable insights, deliver personalized experiences, and execute effective marketing campaigns across various channels.
The top 10 AI marketing campaigns
1. TikToker Creates Business From Scratch Using ChatGPT
Social media content influencers are getting into the mix! In April of 2023, TikTok creator Thunder Keck released a video where he asked ChatGPT to make him a business.
In what resulted in a multi-part series of videos, he followed the AI-generated guide and created a dropshipping business for workout supplements under the name 'Enerjuice' – which was also AI-generated. Within 45 minutes, he had a fully functional dropshipping business with pricing strategies and all.
But it didn't stop there…

In part 4 of the viral series, he used an app called AutoGPT to analyze his business. The app determined that he should rebrand his company and subsequently performed a full brand & website overhaul for him. Now, along with selling supplements, the website has an AI-generated clothing line where he can feed a prompt, and the AI-powered platform will generate a design.
Additionally, the AI gave him a content marketing strategy – suggesting he leverage his social media marketing platforms and let his audience collaborate on designs by suggesting design prompts, which he did at the end of part 4.
The series is 6 parts long and is one of the best marketing examples of how powerful AI can be within the marketing realm.
2. Brands Through the Eyes of AI
Heinz is well-touted as the leader in the condiment marketing game. And they decided to dip a fry into the generative AI craze with one question… "What does AI think ketchup looks like?"
They spearheaded this question in this viral marketing campaign. After feeding the AI image generation tool DALLE-2 prompts like "ketchup in outer space", they had a collage full of fun images of Heinz ketchup.
To activate their audience, they supercharged the customer journey within the social post – encouraging them to share their own AI-generated ketchup images.
This marketing campaign is a fantastic example of how much fun & how powerful generative AI can be in marketing.
3. AI-Generated Shoes
Augmented reality has made significant strides in recent years, and our next entry is a prime marketing example of this fact.
And by merging modern augmented reality tech with AI, digital agencies Hello Monday & Dept created a mirror that analyzes what people are wearing and digitally their shoes with a pair that the AI-powered solutions deem best accentuates their current outfit.
Then, users have the option to scan a QR code which will take them to a website where they can purchase physical versions of the shoes the mirror generated for them. Not only are they creating a fun experience, but they are also driving revenue from it.
4. Beer, Made by AI
What if you entrusted an AI to make your next flagship product entirely from scratch? Well, that's exactly what a Massachusetts-based brewing company did.
Night Shift Brewing not only had AI create the name for their next beer release – which ended up being AI-P-A – along with designing the label. But they asked ChatGPT to create the formula for the beer.
After some trial and error, they managed to get an output that they, and their customers, were satisfied with. And in the process of ideating & creating the product, they saved what likely would've been thousands of dollars thanks to AI – while also facilitating a unique spin for the product.
5. AI Beauty
Sephora is a global beauty brand and one of the leaders in the beauty industry. And in an effort to enhance the customer experience they offer, the company tapped into artificial intelligence to create an augmented reality makeup app.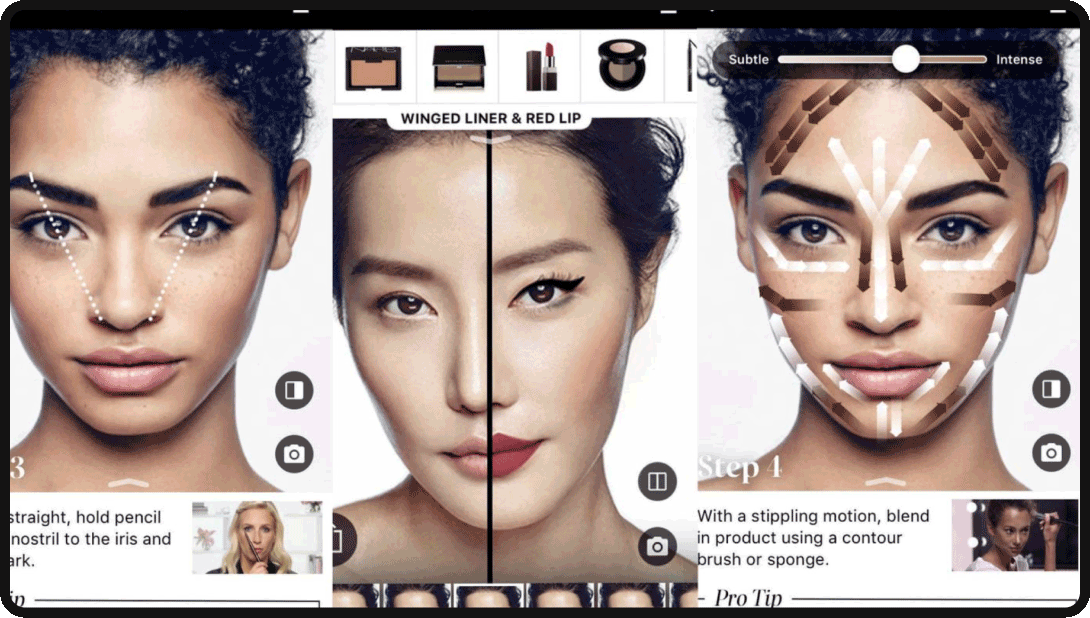 With Sephora Visual Artist, customers can demo different palettes of makeup and try on different foundations, lipsticks, and more… all without actually having to apply them in-store. Additionally, they created Color IQ, which scans the skin of a customer and matches them with the perfect foundation color for their skin.
These AI enhancements are huge and will save from a lot of trial and error & regretful purchases.
6. Grocery Shopping with AI
Everyone hates grocery shopping. This is why grocery delivery apps like Instacart were created! Although, that never resolved the stress of trying to decide what to get.
But now, Instacart is working with OpenAI to develop a chatbot within their app!
This feature will allow you to ask Instacart questions as you create your list surrounding budget, nutrition, and preparation. All-in-all, this move stems from Instacart's driving initiative to make grocery shopping easy by making automated decisions.
And AI is about to make it a whole lot easier!
7. Design Your Own Shoes, with AI
When you think of shoes, you think of the patented Nike swoosh. How cool would it be to make your own Nike shoes (and not get sued into oblivion)?

Well, now you can!
Nike's new 'By You' campaign utilizes an AI-powered personalization system that allows customers to design their own pair of shoes, both online and in-store. All you have to do is choose the shoe from the line you want and go to town!
This initiative drove a significant amount of sales and also gave Nike some valuable information to pull from on their consumers' individual preferences for potential future releases.
8. Dessert for Breakfast, Thanks to AI
Ben & Jerry's is a leader in the ice cream industry. But with nearly a whopping 100 flavors of ice cream in their lineup, it can be hard to innovate further.
That was until AI stepped in. With help from Unilever, a consumer goods company that uses AI to gather information on new trends, a gap in the ice cream market for breakfast flavors.
They shared their findings with Ben & Jerry's, who subsequently developed three new flavors that went on to spearhead their viral "ice cream for breakfast" campaign! Though, it likely would've been a missed opportunity without the valuable information presented by Artificial Intelligence technologies.
9. Shopping Made Easier (with AI)
Shopify is one of the biggest e-commerce businesses in the world. Acting as a marketing funnel for companies, they play host to thousands of thriving businesses and drive millions in revenue from consumers.
But with so many shops to filter through, it can be tough to find what you're looking for as a consumer.
And that's why Shopify decided to tap into AI, integrating a customer-facing shopping assistant chatbot. This shopping assistant can help you navigate through the vast sea of stores on Shopify and narrow in on what you are looking for. It can also offer suggestions for things that you might not have necessarily thought of!
All-in-all, this chatbot stems from Shopify's greater goal to enhance and streamline the user experience of their app.
10. AI-Powered Soda
Coca-Cola is the producer of some of the best beverages in the world. They are also one of the latest companies to jump on the AI bandwagon with its campaign, "Create Real Magic."
This contest put digital artists' imagination to the test, tasking them to create art pieces for the brand using an AI-powered web app developed in-house. These pieces then had the chance to be featured on Coke's digital billboards in New York's Time Square.
Additionally, a group of 30 creators were selected to travel to Coca-Cola's global headquarters for a three-day creative workshop. This brilliant collaborative campaign got audiences involved, and it wouldn't have been possible without the newest innovations in generative AI!
The future of AI in marketing
These ten marketing campaigns represent only the beginning when it comes to AI's marketing potential.

As these technologies continue to advance rapidly and our marketing minds continue to churn, we can only speculate on what will be possible in the future. These AI-powered tools add dimension to marketing campaigns that were once thought to be impossible.

It's only a matter of time until the next company uses AI to change the marketing game…